The virtual world of social media is a rapidly evolving creature that has truly taken on a life of its own. It is changing the way people interact and share their life experiences, where a simple snapshot can tell a story of a thousand words, or does it? Let's face it, no one wants to post an ugly pic on Instagram for the world to see! We consulted the very popular and super fit Active8me expert Fay Hokulani (over 23.5K followers) to find out what she thinks of Instagram (for better or worse) and how that compares to reality.
Then and now…
Fay Hokulani wasn't always the epitome of health we see regularly on Instagram. She was the typical skinny Singaporean kid, who found by the time she graduated Art School she had become "a bit of a chub" from partying, eating fast food, lacking sleep and doing zero physical activity. Fay openly admits that she feared pursuing her dream of modeling because she felt insecure about her weight, with procrastination being one of her biggest excuses for avoiding action.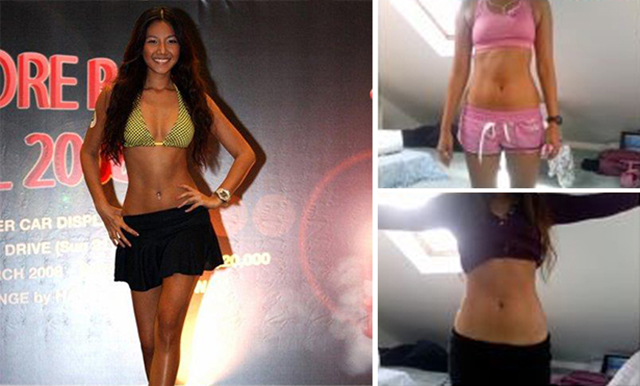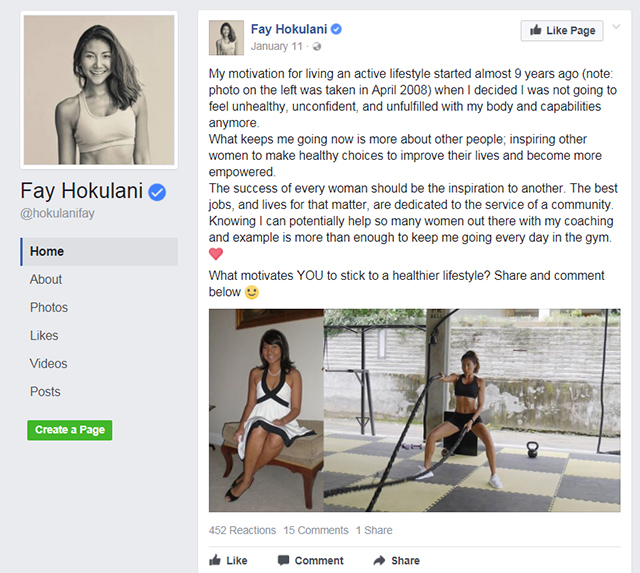 Fay Hokulani transformed her life prior to the emergence of Instagram, but still documented it on her blog. She finds that her favourite posts to follow on Instagram are from people with similar interests in health and fitness. "It's a terrific way to connect with the community to promote healthy living" she says, adding "it can be personal and intimate too, like going into someone's home and looking at their photo album, which makes me feel more connected to the world".
Fay Hokulani's take on social responsibility
Fay Hokulani explains she feels a responsibility as a coach and fitness influencer when interacting on social media. Her intentions when posting on Instagram are guided by "motivating my followers as well as leading by example with sharing snippets of my active lifestyle and what I do for fun!" She also finds her own inspiration from browsing posts that incorporate "more than just a photo with an inspirational quote. I like to see posts with captions that tell a story".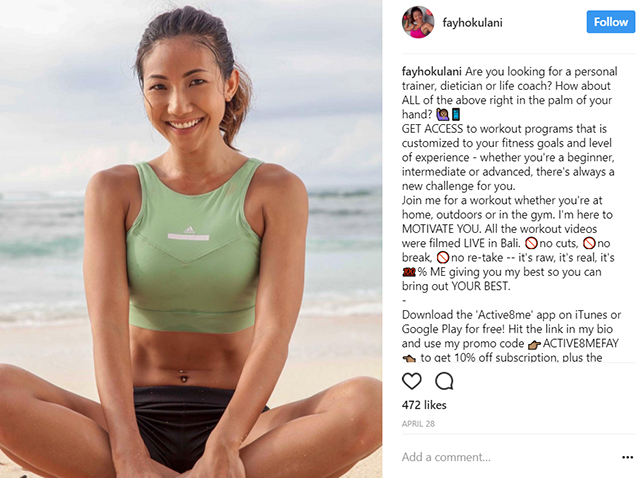 When grilled about the need to look good for her Instagram audience, Fay Hokulani is pragmatic with her approach, recognising "it's more important how I feel about myself than what I want others to feel about me. If I feel good about a photo and the moment I'm trying to capture – that's all that matters". And she is very clear about equating 'Likes' on Instagram to reality. "Number of 'Likes' is so superficial. Any sexy photo will easily get more 'Likes' than a photo with less exposed skin."
With this, Fay finds it very important to note that there are profound consequences to the idea of comparing your life to what you see on Instagram. "Comparison is the enemy. Never compare someone's happiest and best moments on Instagram to your own behind-the-scenes. You could be at home or at work looking at someone's lifestyle photos and feel like you're not living your life to the fullest. It's important to be aware of these negative thoughts as they don't serve you well."
Being real is…
While Fay Hokulani utilises Instagram for sharing inspiration and getting motivated, she is strong in her convictions of remaining authentic. There are certainly some misconceptions in this virtual world of filters, cropping, lighting, angles and hundreds of out-takes and she admits "not every healthy meal looks presentable and 'Instagram-worthy' all the time! I love making my own salad but I don't post every photo of every salad ever made". She adds, "some people go through so much trouble to 'stage' a photo that it takes away the actual moment of being themselves".
Instagram is a great tool, in fact, at Active8me we love to see the successful transformations that people are achieving. We're passionate about helping YOU live a healthy, active life. Seeing you posting your transformations using #Active8me not only gives us great enjoyment but inspires others on their journey.  
Just remember though that often "Instagram life" is very different to people's "real-life".  The origins of Instagram were all about capturing life's everyday moments straight from your mobile. Unfortunately, as Fay points out, all too often Instagram is now a platform for very staged and curated photos. So use Instagram to your advantage for inspiration and motivation, but remember 'not all that glitters is gold'.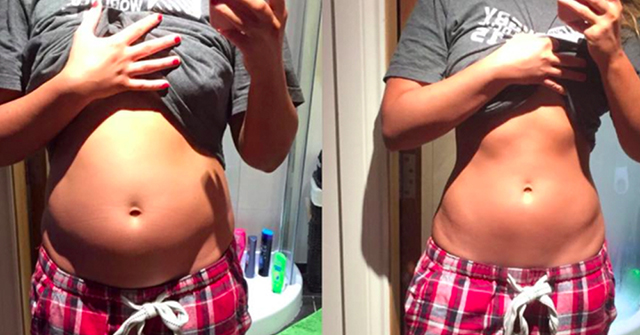 Instagram is not a tool for validation, so don't compare yourself to a snippet of someone else's glitter. Grow your own confidence and self-esteem from the inside. Be the best version of YOURSELF. Make YOURSELF proud. Create you OWN FUTURE. Follow YOUR OWN dreams. Be the best YOU and that will shine through.
Show us how you are best utilising the Active8me app by tagging @Active8me and hashtag #exercisenourishthinktransform and #active8me for your workout, food, mindfulness, motivation and transformation pics!