Our Experts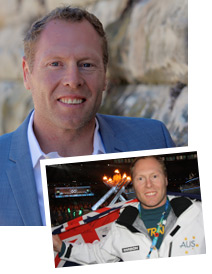 Jeremy Rolleston – Olympian / Active8me Founder
Founder of Active8me. Two-time Olympian. Two-time World Champion (Masters) – Surf Life Saving. Australian representative in two sports – rugby and bobsleigh. Motivational speaker. Author of 'A Life That Counts'. NLP accredited.
Favourite movie?
Braveheart, Gladiator, The Blind Side, The Intouchables.
When I'm not working you'll find me …
Travelling and exploring the world, being active outdoors, or sleeping.
Favourite quote?
You always regret the things you don't do more than the things you do.
---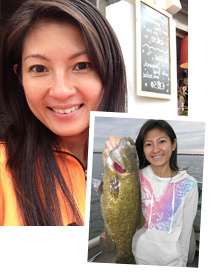 Jaclyn Reutens – Nutrition Expert
BND (Bachelor of Nutrition and Dietetics). Accredited Sports Dietitian (Australian Institute of Sport, AIS). Level 2 Certified Anthropometrist (ISAK) Nutrition Expert- Shape, Women's Week and Her World magazines. Former Nutrition Spokesperson on Channel News Asia. Ex- Health Promotion Board Singapore. Owner- Aptima Nutrition and Sports Consultants.
When I'm not working you'll find me …
Arranging family time and meet-ups with close friends. I'm a firm believer in a healthy work-life balance.
Favourite quote?
You are what you eat.
Best tip on nutrition anyone ever gave you? …
Hunger is not necessarily an indication that you have to eat immediately. 
---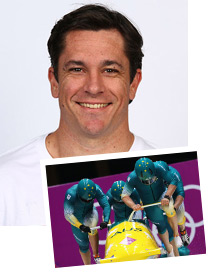 Duncan Harvey – Olympian / Exercise Physiologist
Two-time Olympian. Exercise Physiologist (B. Sc App Sc. (HMS) – Queensland Uni Technology). M. Prof. Acc (USQ). Type 1 diabetic and epileptic.
When I'm not working you'll find me …
Training, playing with my kids and skiing with my wife – preferably all on the same day.
As an Olympian what is one of the best lessons you learnt around fitness and mindset?
Our mindset is one of the few things in life we have complete control over. You can choose how you see the world and yourself. And likewise, be thankful that you have control over your fitness and the way you look and feel. So take accountability for your fitness and your mindset. It's yours to own and influence.
Favourite quote?
If you don't have a dream, how is it going to come true?
---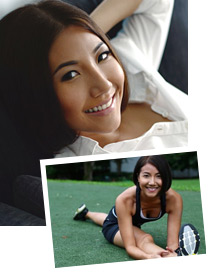 Fay Hokulani – Fitness Expert
Personal Trainer (ACE Certified-American Council on Exercise). Yoga Instructor (Certified RYT – Yoga Alliance). Model. Host. Blogger. Adidas Ambassador.
Who inspires you?
Mothers who keep fit! Staying active can be quite challenging with all the tasks and responsibilities that come with being a mum. I am inspired to maintain a healthy, active lifestyle which I hope to share with my own family in the future.
Why do you love Active8me?
So many things. I find it great having my exercise and nutrition programs organised and easy to follow. I'm always learning something new from our expert team. And I love all that Active8me stands for and represents – inspiring and equipping people to live a healthy, active lifestyle and realize their potential.
Something people don't know about you?
I love to sweat out everyday but I hate getting sweaty palms when I'm nervous.
---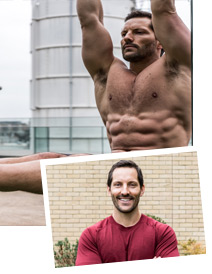 Tim Blakey – Fitness expert / Physiotherapist
Physiotherapist (B. HSc – Auckland University). IASTM certified. PICP I & II (Poliquin) certified. Precision Nutrition PN1 certified.
Who inspires you?
On one hand the many clients that I coach (and have couched) inspire me. The ones that push themselves once they get a taste of what they can achieve. My initial goal is to inspire them towards fitness, but in turn, once they are on their way, they inspire me. It's a really positive and symbiotic cycle. And also the Rock! It might sound cliche, but he's undeniable and just has the most incredible work ethic. And his ability to stay humble despite all his successes.
When I'm not working you'll find me?
In winter, hopefully snowboarding somewhere in Europe. In the summer, likely the beach or next to a pool.
What do you love about being a personal trainer?
I have a passion for the more active, exercise physiology side of therapy. So I love that positive feedback loop of inspiring people that maybe wouldn't have discovered a passion for better movement and ability otherwise.
The best advice on fitness and health anyone gave you?
Run your own race. Comparison is the thief of joy. It also is an unproductive waste of time.
---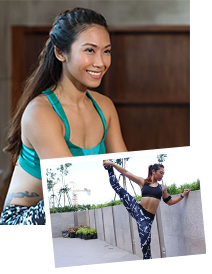 Nikki Torres – Fitness Expert
Yoga Instructor (Certified RYT – Vinyasa, Yin). Zumba instructor. Adidas Ambassador. Founder of NT Sweat, a toning and cardio method grounded on the principles of dance, yoga and bodyweight training.
Something people don't know about you?
I used to be a ballerina and pianist. Hence my passion for dance and music!
What is your view on healthy living?
A healthy lifestyle is a choice we can all choose to make, and a commitment that doesn't have to feel forced. Of course, there's a stage for learning and adjustment, but it eventually must turn into something that's naturally occurring, something we enjoy doing. And this is why I love Active8me
When I'm not working you'll find me …
Listening to music or reading a book. Or working out! 🙂
What do you love about Active8me?
The whole program not only provides workouts or recipes, it teaches you to make that change and weaves health and fitness into your daily activities and choices. I love how it is designed to be holistic – from exercise to nutrition to mindset to holistic health. And I love how it is geared to provide members with lasting benefits – real change that lasts!
---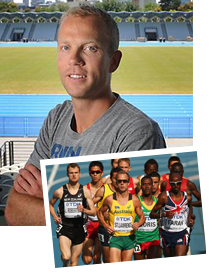 Ben St. Lawrence – Olympian / Running Expert / Exercise Physiologist
Two-time Olympian. B. Human Movement/Exercise Science. B. SocSc (Psychology) – CSU. Australian record holder 10,000m (27:24). Co-founder – Run Crew. Senior exercise physiologist (Good Health Solutions).
What is your sporting highlight?
Breaking the Australian record in the 10,000m at Stanford University. It was one of those dream nights where everything came together. Becoming the fastest Australian in history over the 10,000m is a huge honour.
Best tip on exercise anyone ever gave you?
Training harder isn't always the answer. Sometime we need to train smarter to improve.
What would you spend your last $10 on?
Bananas.
Active8me's running programs are …
Aimed at making sure you will get the most benefit from your effort – helping you to make great progress towards (and beyond) your running goals. The program is specifically designed from countless running sessions I have done myself. 
---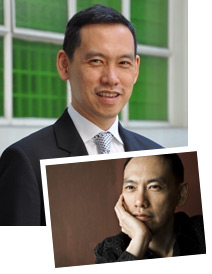 Dr Chong Yeh Woei – GP
MBBS (Singapore). MRCP (Internal Medicine – United Kingdom). Past-President (Singapore Medical Association). Chairman (Private Practice Committee). Vice-President (Confederation of Medical Associations in Asia and Oceania). Councillor (Medical Association in South East Asia Nations).
Describe your day job?
I have over two decades of experience in the practice of internal medicine across a wide spectrum of patients, diseases, symptoms and healthcare related issues. Every day is different – really. It is one of the reasons I like my job. That, and helping people and making a difference in their lives
When I'm not working you'll find me …
Spending time with my family.
What do you love about medicine?
I have knowledge and tools to make people's lives better. That gives me great satisfaction.
What is your view on healthy living?
Don't ever take your health for granted. It is precious. It can't be bought or bartered. Living a healthy active life with exercise and good nutrition is not only good for the body, it is good for the mind and good for your life overall. 
---
Johanna Lyle – Olympian / Personal Trainer
Two-time Olympian. Master Personal Trainer (AIF Certified). Founder Yummy Tummies Fitness (pregnancy and post baby). Mother of two.
What is your sporting highlight?
My sporting highlights include the following …competing on the World Cup circuit for 6 years. 10-time Australian champion.Two-time Olympian. Achieving a top world ranking of 4th in women's snowboarding (parallel giant slalom).
As a mother of two what's the best tip you'd give to new mums on getting back in shape?
It is great for both your mind and body to get back into exercising after having a baby. Take one step at a time and remember to listen to your body. It won't happen overnight, but it will happen.
Active8me's pregnancy and post baby programs are …
Structured. Sensible. Safe. Specifically designed to build your body's core strength as it gets ready for the exertions of childbirth and get you back into shape (the parts we need the most) post baby. As a mother of two, a two-time Olympian and a master trainer, I am confident that these programs will really help you throughout these exciting (and sometimes overwhelming) stages of life.
When I have a moment to myself and to relax I love to…
Have a glass of wine and read a magazine.
---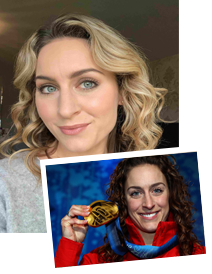 Amy Williams – MBE
Olympic Gold medallist (Skeleton, 2010). BA (Sports Performance). Active IQ Personal Training – Level 3. TV Presenter. Speaker. Mother of 2 growing boys!
What would you send your last $10 on?
On a loaf of fresh white bread and a pot of honey!! I'm obsessed with Honey!
The best advice on fitness and health anyone gave you?
Have goals. You need to know what you want to achieve and then work out those steps on how you were going to achieve it. Know that you will have highs and lows on your journey, you will always learn something about yourself from those lows to keep your eyes looking forward and never forget your dream.
What is the one moment that you remember about winning an Olympic gold medal?
Holding the gold medal in my hand for the first time, I was shocked at how heavy it was!!
What do you love about Active8me?
"I love how Active8me has everything in one place – pulling the knowledge and advice from top experts in their field."