Evangeline Jamili is not new to exercise. But like so many busy professionals finding time for gym visits became difficult. This was especially concerning when her health depends on remaining consistent to combat the effects of Thyroid surgery.
Our Client: Evangeline Jamili, Butuan City Philippines
"I had an amazing body when I was younger.  In fact, I was the Regional and National Mrs PICPA Beauty and Brain Competition winner.  PICPA is a national professional organization for certified public accountants." Despite maintaining good health for most of her life, Evangeline had to undergo thyroid surgery which made her reassess her approach to nutrition and fitness.
Evangeline's Challenge
As a very motivated 59-year old, it was a shock to be told the impact her thyroid surgery would have on her metabolism, and consequently her figure. "In 2013, I underwent Thyroid surgery where my Endocrinologist recommended I make significant changes to my diet and exercise regime. Especially if I wanted to maintain my figure." Her inspired action was to join the Father Saturnino Urios University gym where she worked. Evangeline consistently attended the gym for five years. "I was awarded the gyms 'look-good, feel-good' award for my efforts". But with her busy work schedule, business trips and caring for her family into retirement she was looking for more than a gym membership alone.
Evangeline's quest for health is fuelled by her family history.
"My parents and my siblings all suffer from high blood pressure, which can have dire consequences. So, I have to watch my diet and manage my weight to avoid such illness." Along with her own inner drive for health and physical fitness, Evangeline understands the importance of her contribution to the lives around her. "I'm motivated by the fact that to take care of other people, I have to take care of myself first. My 12-year old son is my inspiration to stay healthy so that I can still take care of him even into retirement."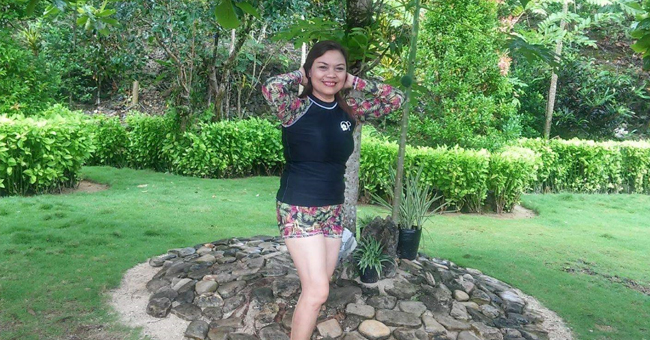 The Active8me solution
"I had already used several apps before, but when my friend Josefe S. Ty, also a Dean, of the College of Law, at our university introduced to me the Active8me app I found it to be very useful for me and used it consistently."
"Active8me has helped me a lot.  There is a clear program to follow and the variety of sessions address my needs. I really appreciate that it is based in science and has a well organised design. Plus, it offers a total workout." The Active8me app's customisable features make it suited to different levels of fitness, varying nutrition needs and tastes, as well as offering personal coaching. "Real people as coaches is so inspiring".
Successful bodily transformations require the right mindset. The Active8me app incorporates mindset lessons as part of every program. "I feel that the Active8me program is a total service for a healthy body.  With this app, I start the day right, with a positive outlook.  It is so much more than simply enrolling in a fitness gym."
Evangeline Jamili's Results
Evangeline Jamili came to our attention because she was consistently the top scorer on our leader board. Active8me has built-in gamification to promote community participation and support. The tracking and connectivity ability enable's users to keep detailed information on their improvements. "I am a morning person. After my morning prayers, I work on my physical fitness. With Active8me I never miss my daily exercise.  I even do the workout when I am out of town, in a hotel room.  My day is not complete without it."
As Evangeline approaches her sixties, she's been able to maintain a healthy figure and trim down where most women's slowing metabolism starts to show. Her blood pressure is under control and she is easily able to care for her young son and ageing family.